Product Summary
The 74LCX16240MTDX is a low voltage 16-Bit inverting buffer/line driver with 5V tolerant inputs and outputs. The 74LCX16240MTDX contains sixteen inverting buffers with 3-STATE outputs designed to be employed as a memory and address driver, clock driver, or bus-oriented transmitter/ receiver. The device is nibble controlled. Each nibble has separate 3-STATE control inputs which can be shorted together for full 16-bit operation. The 74LCX16240MTDX is fabricated with an advanced CMOS technology to achieve high speed operation while maintaining CMOS low power dissipation.
Parametrics
74LCX16240MTDX absolute maximum ratings: (1)VCC Supply Voltage: -0.5 to 7.0 V; (2)VI DC Input Voltage: -0.5 to 7.0 V; (3)VO DC Output Voltage -0.5 to 7.0: Output in 3-STATE V; (4)-0.5 to VCC 0.5: Output in HIGH or LOW State V; (5)IO DC Output Source/Sink Current: 50 mA; (6)ICC DC Supply Current per Supply Pin: 100 mA; (7)IGND DC Ground Current per Ground Pin: 100 mA; (8)TSTG Storage Temperature: -65 to 150°C; (9)CPD Power Dissipation Capacitance VCC 3.3V, VI 0V or VCC, f 10 MHz: 25.0 pF.
Features
74LCX16240MTDX features: (1)5V tolerant inputs and outputs; (2)2.3V to 3.6V VCC specifications provided; (3)4.5 ns tPD max (VCC 3.3V), 20 PA ICC max; (4)Power down high impedance inputs and outputs; (5)Supports live insertion/withdrawal (Note 1); (6)r24 mA output drive (VCC 3.0V); (7)Implements patented noise/EMI reduction circuitry; (8)Latch-up performance exceeds 500 mA.
Diagrams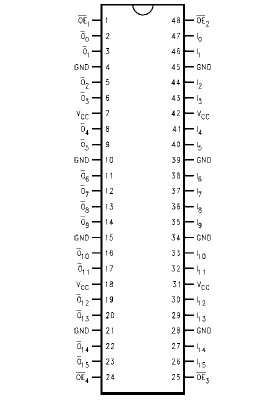 Image
Part No
Mfg
Description
Pricing
(USD)
Quantity

74LCX16240MTDX

Fairchild Semiconductor

Buffers & Line Drivers 16-Bit Buff/Lin Drv

Data Sheet



| | |
| --- | --- |
| 0-1000: | $0.25 |
| 1000-1350: | $0.25 |
| 1350-2000: | $0.23 |
| 2000-5000: | $0.22 |

Image
Part No
Mfg
Description
Pricing
(USD)
Quantity

74LCX00

Other



Data Sheet

Negotiable

74LCX00BQX

Fairchild Semiconductor

Gates (AND / NAND / OR / NOR) Quad 2-Input NAND Gate with 5V Tol Inp

Data Sheet



| | |
| --- | --- |
| 0-1: | $0.39 |
| 1-25: | $0.30 |
| 25-100: | $0.26 |
| 100-250: | $0.23 |


74LCX00M

Fairchild Semiconductor

Gates (AND / NAND / OR / NOR) Qd 2-Input NAND Gate

Data Sheet



| | |
| --- | --- |
| 0-1: | $0.27 |
| 1-25: | $0.23 |
| 25-100: | $0.19 |
| 100-250: | $0.15 |


74LCX00MTC

Fairchild Semiconductor

Gates (AND / NAND / OR / NOR) Qd 2-Input NAND Gate

Data Sheet



| | |
| --- | --- |
| 0-1: | $0.27 |
| 1-25: | $0.18 |
| 25-100: | $0.15 |
| 100-250: | $0.12 |


74LCX00MTCX

Fairchild Semiconductor

Gates (AND / NAND / OR / NOR) Qd 2-Input NAND Gate

Data Sheet



| | |
| --- | --- |
| 0-1: | $0.21 |
| 1-25: | $0.18 |
| 25-100: | $0.15 |
| 100-250: | $0.12 |


74LCX00MTR



IC GATE NAND QUAD 2INP 14-SOIC

Data Sheet



| | |
| --- | --- |
| 0-1: | $0.60 |
| 1-10: | $0.52 |
| 10-25: | $0.46 |
| 25-100: | $0.40 |
| 100-250: | $0.35 |
| 250-500: | $0.30 |
| 500-1000: | $0.24 |