Product Summary
The FAN6300AMY is a highly integrated quasi-resonant current mode PWM controller. The FAN6300AMY provides several features to enhance the performance of flyback converters. The FAN6300AMY is applied on quasiresonant flyback converters where maximum operating frequency is below 100kHz. A built-in HV startup circuit can provide more startup current to reduce the startup time of the controller. Once the VDD voltage exceeds the turn-on threshold voltage, the HV startup function is disabled immediately to reduce power consumption. Applications of the FAN6300AMY are (1)AC/DC NB adapters; (2)open-frame SMPS.
Parametrics
FAN6300AMY absolute maximum ratings: (1)VDD DC Supply Voltage: 30 V; (2)VHV HV: 500 V; (3)VH GATE: -0.3 to 25.0 V; (4)VL VFB, VCS, VDET: -0.3 to 7.0 V; (5)PD Power Dissipation SOP-8: 400 mW, DIP-8 800mW; (6)TJ Operating Junction Temperature: +150 °C; (7)TSTG Storage Temperature Range: -55 to +150 °C; (8)TL Lead Temperature (Soldering 10 Seconds): +270 °C; (9)ESD Human Body Model, JEDEC:JESD22-A114: 3.0 KV; (10)Charged Device Model, JEDEC:JESD22-C101: 1.5kv.
Features
FAN6300AMY features: (1)High-Voltage Startup; (2)Quasi-Resonant Operation; (3)Cycle-by-Cycle Current Limiting; (4)Peak-Current-Mode Control; (5)Leading-Edge Blanking (LEB); (6)Internal Minimum tOFF; (7)Internal 5ms Soft-Start; (8)Over Power Compensation; (9)GATE Output Maximum Voltage; (10)Auto-Recovery Over-Current Protection(FB Pin); (11)Auto-Recovery Open-Loop Protection(FB Pin); (12)VDD Pin and Output Voltage (DET Pin)OVP Latched; (13)Low Frequency Operation (below 100kHz)for FAN6300A; (14)High Frequency Operation (up to 190kHz)for FAN6300H.
Diagrams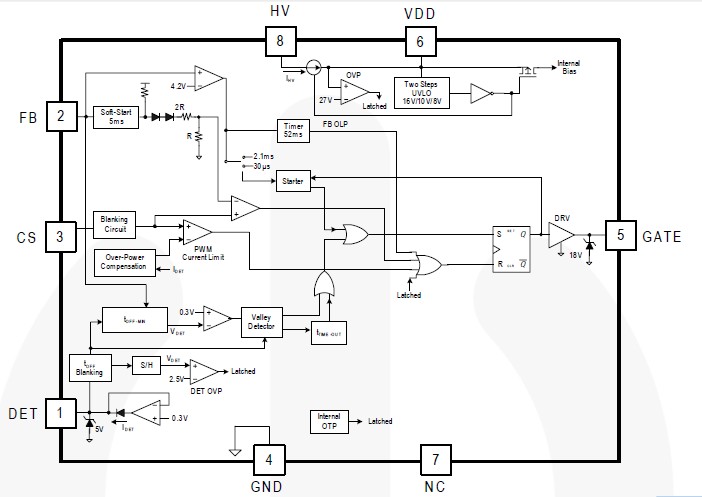 Image
Part No
Mfg
Description
Pricing
(USD)
Quantity

FAN6300AMY

Fairchild Semiconductor

DC/DC Switching Controllers Hi-Int. Quasi-Resnnt Current Mode PWM

Data Sheet



| | |
| --- | --- |
| 0-1: | $0.50 |
| 1-25: | $0.44 |
| 25-100: | $0.34 |
| 100-250: | $0.30 |

Image
Part No
Mfg
Description
Pricing
(USD)
Quantity

FAN6103NZ

Fairchild Semiconductor

Current Mode PWM Controllers Single Stage PFC Controller

Data Sheet



| | |
| --- | --- |
| 0-1: | $0.73 |
| 1-25: | $0.57 |
| 25-100: | $0.53 |
| 100-250: | $0.45 |


FAN6204MY

Fairchild Semiconductor

Other Power Management Secondry Synchronous Rectifier Controller

Data Sheet



| | |
| --- | --- |
| 0-1: | $0.63 |
| 1-25: | $0.51 |
| 25-100: | $0.46 |
| 100-250: | $0.40 |


FAN6206MY

Fairchild Semiconductor

Primary & Secondary Side PWM Controllers Secondry Synchronous Rectifier

Data Sheet



| | |
| --- | --- |
| 0-1: | $0.59 |
| 1-25: | $0.53 |
| 25-100: | $0.43 |
| 100-250: | $0.37 |


FAN6208MY

Fairchild Semiconductor

Power Driver ICs Secndary Synchronous Rectifier Controller

Data Sheet



| | |
| --- | --- |
| 0-1: | $1.12 |
| 1-25: | $0.91 |
| 25-100: | $0.82 |
| 100-250: | $0.70 |


FAN6210MY

Fairchild Semiconductor

Primary & Secondary Side PWM Controllers Primary-Side Sync. Rect. Signal Trigger

Data Sheet



| | |
| --- | --- |
| 0-1730: | $0.44 |
| 1730-2500: | $0.41 |
| 2500-5000: | $0.39 |
| 5000-10000: | $0.38 |


FAN6224M

Fairchild Semiconductor

DC/DC Switching Controllers Synch Rect Contrlr

Data Sheet



| | |
| --- | --- |
| 0-1: | $0.74 |
| 1-25: | $0.61 |
| 25-100: | $0.49 |
| 100-250: | $0.37 |