Product Summary
The FAN8100N is a monolithic two channel dc motor drive IC designed for low voltage operated systems. The FAN8100N has dual H-bridge drivers, using NPN and vertical- PNP power transistors with a low saturation voltage. Power packages with heat sinks endure high continuous output current. The high current and low saturation voltage feature make this device suitable for dc motor applications such as toy cars. The FAN8100N has also a built-in thermal shutdown protection circuit with hysteresis. Applications are (1)general purpose dc motor driver; (2)electronic toys - robots, RC cars; (3)digital still camera(DSC)and film camera; (4)home appliances and office equipment; (5)precision instruments.
Parametrics
FAN8100N absolute maximum ratings: (1)Maximum logic and control supply voltage VCC(MAX): 10.5 V; (2)Maximum output supply voltagePVCC(MAX): 10.5 V; (3)Maximum output applied voltage VOUT(MAX)PVCC: + VD V; (4)Maximum applied input voltage VIN(MAX): 10.0 V; (5)Maximum D1A Voltage VD1A(MAX)PVCCA: + 4.5 V; (6)Peak output current per channel IOUT(PEAK): 1.5(1.2)A; (7)Power dissipation: 1.0 W; (8)Operating temperature TA: -20 ~ 75 °C; (9)Storage temperature TSTG: -40 ~ 125 °C; (10)Junction temperature TJ: 150 °C.
Features
FAN8100N features: (1)Two channel H-bridge drivers with built-in NPN and vertical-PNP power transistors; (2)Four functions for each channel - Forward/Reserve/Stop/Brake functions; (3)Special output pin for an RC car application - for a Turbo function for Ch.A (five-function RF receiver chip RX-2 interface); (4)Low stand-by current (typ. 0.1uA); (5)Wide supply voltage range (PVCC=1.8V ~ 9.0V)suitable for battery operated applications; (6)3.3V and 5V micro-controller interface; (7)Low output saturation voltage (upper and lower total : typ. 0.15V@ 0.2A); (8)High current outputs (max. 1.5A/Ch.); (9)Parallel connection (Max Current : 3A); (10)High thermal capability for high continuous output currents; (11)Built-in spark killing diodes; (12)Built-in a thermal shutdown(TSD)function with hysteresis; (13)Short circuit protected; (14)Temperature independent internal voltage reference.
Diagrams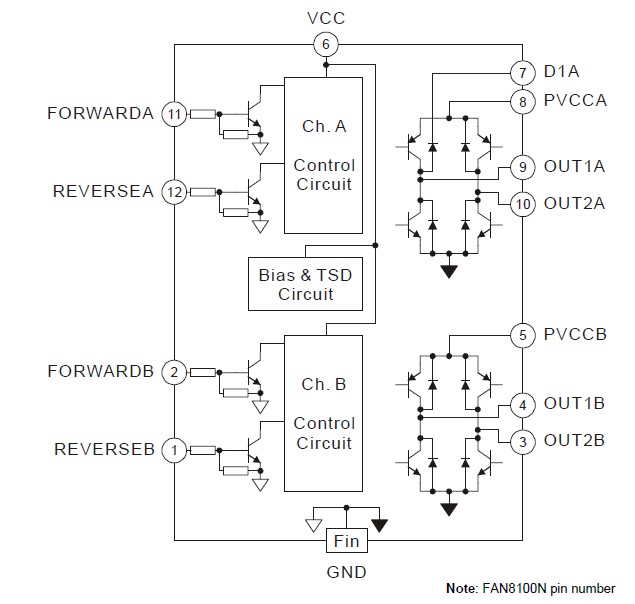 Image
Part No
Mfg
Description
Pricing
(USD)
Quantity

FAN8100N

Fairchild Semiconductor

Motor / Motion / Ignition Controllers & Drivers LV Step Motor Driver

Data Sheet

Negotiable
Image
Part No
Mfg
Description
Pricing
(USD)
Quantity

FAN8000D

Fairchild Semiconductor

Motor / Motion / Ignition Controllers & Drivers

Data Sheet

Negotiable

FAN8000DTF

Fairchild Semiconductor

Motor / Motion / Ignition Controllers & Drivers BTL Motor Driver

Data Sheet

Negotiable

FAN8001BD

Fairchild Semiconductor

Motor / Motion / Ignition Controllers & Drivers Motor Driver 4Ch BTL+1Ch DC

Data Sheet

Negotiable

FAN8001BDTF

Fairchild Semiconductor

Motor / Motion / Ignition Controllers & Drivers Motor Driver 5Ch BTL+1Ch DC

Data Sheet

Negotiable

FAN8001D

Other



Data Sheet

Negotiable

FAN8002D2

Other



Data Sheet

Negotiable