Product Summary
The FAN4855MTCX is a low power boost regulator designed for low voltage DC to DC conversion in 2-cell battery powered systems such as digital cameras, cell phones and PDAs. The FAN4855MTCX starts-up at 1.3V and operates after the start at an input voltage as low as 1V. Output voltage can be adjusted by external resistors from 3.3V to 5V with a maximum load current of 0.5A. Quiescent current in shut-down mode is less than 10μA, which maximizes the battery live time. Applications of the FAN4855MTCX are (1)DSCs; (2)PDAs; (3)Cell phones, smart phones; (4)Portable instrumentations; (5)2-3 AA / AAA cells operated devices; (6)Single cell Li-Ion operated devices.
Parametrics
FAN4855MTCX absolute maximum ratings: (1)V IN , V OUT Voltages (Relative to GND): -0.3 6.5 V; (2)Switch Voltage (V L to GND): -0.3 V OUT + 0.3 V; (3)Voltage on any other Pin: -0.3 V OUT + 0.3 V; (4)Peak Switch Current (Ipeak): Internally Limited; (5)Output Current (I OUT ): 500 mA; (6)Continuous Power Dissipation: 525 mW; (7)Junction Temperature: 150 °C; (8)Storage Temperature Range: -65 to 150 °C; (9)Lead Temperature (soldering, 10s): 300 °C.
Features
FAN4855MTCX features: (1)Low power PFM boost regulator; (2)Input voltage range is from 1.6V to 4.5V; (3)Output voltage range is from 3V to 5V; (4)500mA maximum load current capability; (5)95% efficient power conversion; (6)2-3 cell and single cell Li-Ion systems; (7)Variable on-time Pulse Frequency Modulation (PFM); (8)Internal synchronous rectifier (no need for external diode); (9)Low-battery detection; (10)Logic controlled shutdown with true-load disconnect; (11)Low (80μA)quiescent current; (12)TSSOP-8 Package.
Diagrams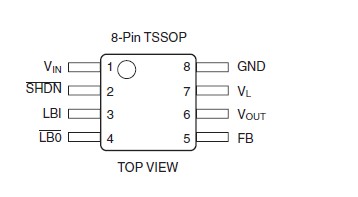 Image
Part No
Mfg
Description
Pricing
(USD)
Quantity

FAN4855MTCX

Fairchild Semiconductor

DC/DC Switching Controllers Adj 2-Cell Boost

Data Sheet

Negotiable
Image
Part No
Mfg
Description
Pricing
(USD)
Quantity

FAN400A

Other



Data Sheet

Negotiable

FAN400ADZ

Fairchild Semiconductor

Switching Converters, Regulators & Controllers Low-Power Green-Mode PWM Flyback Pwr Cont

Data Sheet

Negotiable

FAN400ANY

Fairchild Semiconductor

Switching Converters, Regulators & Controllers 30V 70kHz Low-Pwr Grn-Mode PWM Cont.

Data Sheet

Negotiable

FAN400ATY



IC REG CTRLR FLYBK ISO PWM 6SSOT

Data Sheet



| | |
| --- | --- |
| 0-3000: | $0.15 |
| 3000-6000: | $0.14 |
| 6000-15000: | $0.14 |
| 15000-30000: | $0.13 |
| 30000-75000: | $0.13 |
| 75000-150000: | $0.13 |


FAN400ATZ

Fairchild Semiconductor

Switching Converters, Regulators & Controllers Low-Power Green-Mode PWM Flyback Pwr Cont

Data Sheet

Negotiable

FAN400C

Other



Data Sheet

Negotiable